Major depressive disorder and anxiety disorders are some of the most commonly occurring mental health conditions in the US. Exercise, particularly at a moderate intensity (like brisk walking), has been found to be effective in reducing depression and anxiety as well as enhancing quality of life. However, it is unclear if exercise can also enhance other psychological treatments, such as behavioral activation for depression, when offered in combination with these treatments. Behavioral activation (BA) is a brief intervention (5-10 sessions) and involves scheduling and completing valued activities to improve mood. Studies have shown that BA itself treats depression and enhances overall well-being. BA may provide a useful context for introducing exercise into more standard clinical practice.
The current study was designed to examine the pairing of BA and exercise for improving depressed mood and overall functioning. Thirty-one sedentary, depressed patients were assigned to receive either BA plus exercise or BA plus stretching (as a comparison) over the course of 12 weeks (6 weekly sessions and 3 biweekly sessions) and 1-month follow-up. Results indicated that patients thought both the exercise and stretching interventions were credible and likely to help improve their depression. Sixty-eight percent of participants completed the entire study. On average, all participants, regardless of assignment to the exercise or stretching groups, improved over time on depression and functioning. However, those in the exercise group reported less stress and improved more in their tolerance of distress as compared to the stretching group. Further, across all groups, those who engaged in more exercise achieved greater declines in self-reported depression symptoms.
Overall, these results suggest that BA appears to be a suitable intervention for enhancing exercise, enough so that depressed participants increased their exercise in both the exercise and stretching groups. However, a specific focus on enhancing regular exercise may be more beneficial for reducing stress and improving tolerance of distress.
Read the full article: Szuhany, K. L., & Otto, M. W. (in press). Efficacy evaluation of exercise as an augmentation strategy to brief behavioral activation treatment for depression: A randomized pilot trial. Cognitive Behaviour Therapy. doi: 10.1080/16506073.2019.1641145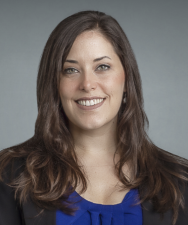 Pictured: Dr. Kristin Szuhany
Photo by: Fitness123